NEWS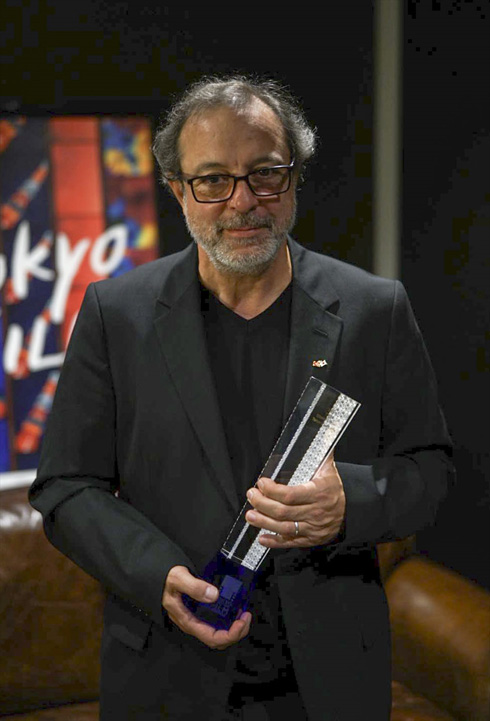 03.11.2017
GRAIN TAKES TOKYO GRAND PRIX

Grain, written and directed by Semih Kaplanoğlu, returns home from 30th Tokyo International Film Festival with Grand Prix.

The awards were given in the closing ceremony which took place on 3rd November at Roppongi Ex Theater. Kaplanoğlu's Grain took the award among 15 other films in the International Competition.

In his speech, Priesident of the International Jury Tommy Lee Jones said the award was given unanimously and added "We were looking for beautiful photography and we were impressed with this movie's presentation of the reality of myth. And we were certainly impressed by this movie's appreciation of common understanding among all people through a shared mythic experience."

Director Semih Kaplanoğlu said it took 5 years to make his film and thanked to all the crew members, the Director of Photography Giles Nuttgens and the main cator Jean-Marc Barr for his performance.

Kaplanoğlu also said, "As all of you know that many things are happening in the World, consumption, capitalism… We need to think of where we came from and where we are heading. As a filmmaker I think the creativity and the powerto make film helps us in trying to ask these questions. And I think humanity must change the way it has been living. I belivev that God gave me strength to make this film."

Grain will be released in Turkey on 24th November.
18.07.2017
GRAIN WORLD PREMIERE AT
23RD SARAJEVO FILM FESTIVAL

The long awaited new film by 2010 Golden Bear Winner Honey director Semih Kaplanoğlu, GRAIN is having World Premiere at 23rd Sarajevo Film Festival International Competition.

With Jean-Marc Barr, Ermin Bravo, Grigory Dobrygin and Cristina Flutur starring, the film is shot in English.

The film is a Turkish, German, French, Swedish and Qatar co-production which was shot in Detroit USA, Germany and Turkey.

The gala screening of Grain will be on 12nd August Saturday at 20:00 at the National Theater with presence of Semih Kaplanoğlu and actors.

With Mexican Director Michel Franco heading the jury, the festival is happening for the 23rd time. Mark Adams (Artistic Director EIFF), Goran Bogdan (Actor from BIH, Croatia), Fatma Al Remaihi (CEO of Doha Film Institute) and Turkish actress Melisa are other members of the international jury.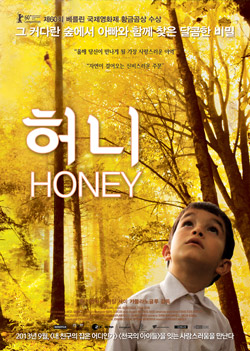 25.09.2013
HONEY GOES TO KOREA

Semih Kaplanoglu's Golden Bear winner film BAL is released in September 26, in theatres in Korea. After Japan, the film, which continues to be released around the globe since 2010, is going to meet this time the Korean audience in South East Asia.

BAL will be released in two art house cinemas in Seoul and Busan, the biggest cities in Korea. The Korean press showed much favour for the film and critics recommend the film to adults and children alike. The Korean distributor BaekDu-DaeGan Films officials who are much pleased with this noted that "People in Korea seem to feel that there is something in this film that can make people grow in a very natural way."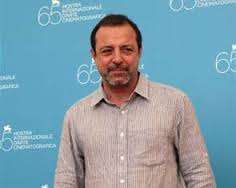 12.08.2013
KAPLANOĞLU IS AT VENEZIA WITH "DEVRAN"

In celebration of the 70th Venice International Film Festival (August 28 – September 7, 2013) theBiennale di Venezia has created the special project, Venezia 70 – Future Reloaded.

70 movie directors from all over the world have been invited to make a short film lasting between 60 and 90 seconds, in total creative freedom.

Semih Kaplanoglu is participating in this project from Turkey with his short film "Devran". In 2008, he attended the official competition of 65. Venice Film Festival with his feature film "Süt". Kaplanoglu's participation in the project is announced along with Chinese Jia Zhangke's in a press conference recently.

Future Reloaded is both a collective movie tribute to the Festival (the world's first film festival to celebrate its 70th edition) and a reflection on the future of cinema, as filtered through the personal artistic insight of each of the participating directors. Bernardo Bertolucci, Paul Schrader, Shekhar Kapur, Apichatpong Weerasethakul, Abbas Kiarostami, Monte Hellman and Walter Salles are just a few of the great filmmakers who have agreed tocontribute to Future Reloaded.

All the shorts will be given a first public screening at the Lido during the 70th Venice International Film Festival.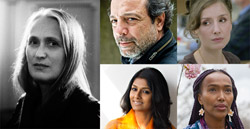 19.04.2013
SEMIH KAPLANOGLU AT CANNES

Semih Kaplanoglu is at Short Films and Cinefondation jury at this year's 66th Cannes Film Festival.

Other members of the jury headed by Australian director Jane Campion, are Majida Abdi, Nicoletta Braschi ve Nandita Das. At the Short Films Competition of 2013 Cannes Film Festival which will take place between 15-26 May, 9 short films selected out of 3500, will compete for Short Film Palme d'or. For the first time, a Palestinian film will take part in the Short Films Competition. In Cinefondation section 18 films (14 fiction films and 4 animated films) selected out of 1550 films sent from film schools worldwide will compete for Cinefondation Prize.

Semih Kaplanoglu's film Yumurta premiered at Directors' Fortnight in 2007 Cannes Film Festival, while his film 'Süt' was presented at Cannes Atelier.
11.03.2013
"JOURNEY OF THE CAKE"
IN 32. ISTANBUL FILM FESTIVAL

Following on the track of "Gurbet Pastası", a book by Uğur Biryol, the documentary film directed by Funda Aras will meet its audience in 32. Istanbul Film Festival.

In today's Turkey, best patisseries and bakeries are run by people from Hemşin. In the late 1800s many from Çamlıhemşin went to Russia and learnt the art of cake making there. Their grandchildren tell the story of their great grandfathers.

The film is produced by Kaplan Film with the support of General Directorate of Cinema, Turkish Ministry of Culture & Tourism.

For more information please go to
film.iksv.org/en/film/2433
28.05.2012
CANNES AWARDS "CHILDREN"

Co-produced by Semih Kaplanoglu, Bosnian filmmaker Aida Begic's film DJECA, received Special Distinction Award in Un Certain Regard section of 2012 Cannes Film Festival where it premiered.

In the award ceremony held on 26th May, Aida Begic who got the award from Tim Roth said that she hoped "This award will mean something to those who decide about the culture in our country where national museum and national gallery are closing down and where cinema is in danger to disappear as well".

DJECA is Aida Begic's second feature film. Her debut film SNOW has also received Grand Prix award in Semaine de la Critique section at 2008 Cannes Film Festival.
30.04.2012
BOSNIAN "CHILDREN" AT CANNES

"DJECA", the second feature film of Bosnian director Aida Begic who won Grand Prix with her first film "Snijeg" at Cannes' Semaine de la Critique in 2008, is going to premiere in Un Certain Regard, one of the official selections of Cannes Film Festival.

Semih Kaplanoglu, who is one of the co-producers of the film also supported by TRT, says that "Djeca is a very impressive look at the still present after effects of Bosnian war in the social fiber especially through the eyes of youngsters who were orphaned during the war"

"Djeca" (Children), which is a co-production between Bosnia-Herzegovina, Germany, France and Turkey, is supported by Sarajevo Cinematography Fund, Eurimages, MDM, ZDF/ARTE, TRT, Fonds Sud Cinema and Torino Film Lab.

Rahima (23), who lost her parents during the siege of Sarajevo (1990-95), tries hard to keep the custody of her teenage brother Nedim. Otherwise Nedim would either go back to the orphanage or fall prey to the gangs hiring young kids for street crime. Rahima's choice sheds light on the future of Bosnia as well.

Marija Pikić and Ismir Gagula are starring in "Djeca" (Children).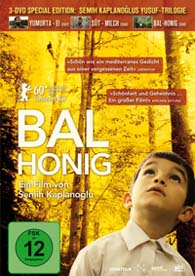 12.12.2011
"THE YUSUF TRILOGY" DVD-SET IN GERMANY

A box set of all three films of The Yusuf Trilogy, Yumurta (Egg), Süt (Milk) and Bal (Honey) directed by Semih Kaplanoglu came out in Germany by Piffl Medien,

You can watch the films in the DVD-set, Yumurta (Egg), Süt (Milk) and Bal (Honey) in Turkish, the original language with German subtitles. The DVD-set also features "Making of" showing the production process of all three films and a booklet.

A box set of the Yusuf Trilogy films is also on sale in Turkey, Switzerland, Spain, Belgium and Netherlands.
17.10.2011
SEMIH KAPLANOGLU RECEIVES AWARD FROM AMERICAN INDEPENDENTS

The 2011 Nilsson Award recipient is the producer and director of Bal, Semih Kaplanoglu who will receive the award from Los Angeles-based American independent filmmakers society Filmmakers Alliance in 14th VisionFest. The Nilsson Award, which is awarded in the name of famous American independent director Rob Nilsson, acknowledges and celebrates bold, direct, honest and aesthetically challenging filmmaking.

Semih Kaplanoglu is going to receive the award from Rob Nilsson himself in an award ceremony that will take place on Wednesday, October 19, in Los Angeles.

In VisionFest, where independent filmmakers like Mike Figgis, Terry Gilliam, Wim Wenders, Allison Anders, Alexander Payne, David O. Russell and Werner Herzog have been awarded previously, this year in addition to Semih Kaplanoglu famous American producer Christine Vachon is going to receive Vision Award as well.

Semih Kaplanoglu also won "Best Film" and "Best Cinematography" awards in 13th International RiverRun Film Festival in America las year.

THE YUSUF TRILOGY DVDs IN USA and CANADA

Following the DVD releases in Spain, Germany, Belgium, Netherlands, Switzerland, Sweden Australia and Britain Yumurta (2007), Süt (2008) and Bal (2010) DVDs hit the stores in the USA and Canada.

* Rob Nilsson is an American independent film director who has won the Caméra d'Or for "Northern Lights" he has co-directed with John Hanson at the Cannes Film Festival and the Sundance Grand Jury Prize for his film "Heat and Sunlight".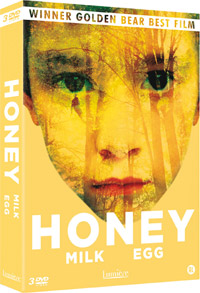 13.09.2011
« THE YUSUF TRILOGY » DVD – SET IN BELGIUM AND NETHERLANDS

Following its release in Turkey, Switzerland and Spain, the DVD-set of the Yusuf Trilogy containing Egg, Milk and Honey directed by Semih Kaplanoğlu is released in Belgium and Netherlands by Belgian distributor Lumière.
The movies come in its original language with French or Dutch subtitles. The set contains an interview with Semih Kaplanoglu and a 90-minute film featuring actors and crew telling about the making of the movies.
Honey, Golden Bear winner movie, is also available on single DVD in Germany, Switzerland, Spain and Australia.
For more information >>>

23.07.2011
BAL « QUIET MIRACLE»* OPENS IN THEATERS IN UK

Semih Kaplanoğlu's Golden Bear-winning film opened in theatres in theatres in the UK on Friday, 15 July. The film has received high critical acclaim from the most acclaimed British film critics.
The leading newspapers of British Press such as The Independent and Financial Times rated Bal five stars while The Guardian, The Times, The Metro, Time Out and Evening Standard gave it four stars.
Remarking on Bal as « A Quiet Miracle», The Independent's critic Anthony Quinn has said « Honey pays homage to the grace and mystery of nature ».
Little White Lies Magazine, has said that it is "A rewarding experience, full of grace and natural beauty » for the audience.
The Guardian's Peter Bradshaw has found the imagery of the film « Superb », and called it « Poetic film-making ».
Nigel Andrews from the Financial Times pointed out to the remarkable performance of lead actor Bora Altaş.
The film is showing in the following theatres in the UK; London Curzon Mayfair, London Institute of Contemporary Arts (ICA), Sheffield Showroom Cinema, Glasgow Film Theatre, Bristol Watershed and Manchester Cornerhouse.
Bal which was received "Golden Wings" Digiturk Distribution Award in London Turkish Film Festival in 2010 is distributed by Verve Pictures.
* Anthony Quinn – The Independent
For more information >>>
www.ltff.org.uk
www.vervepics.com/honey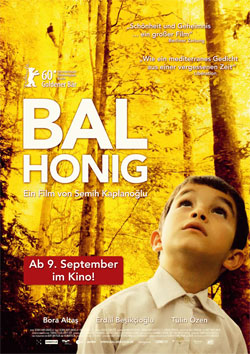 30.05.2011
« BAL » IN THEATERS FOR 9 MONTHS IN GERMANY

Bal, which garnered Golden Bear in 2010 Berlin Film Festival, is going to a record in movie theatres in Germany.

Piffl Medien, the film's Germany distributor reports that the number of admissions has reached 129,000 since BAL's initial release in November 2010. It is unusual for a foreign language film to achieve such big figure in Germany even if it does have a Golden Bear.

For film audience comments from Germany go to >>>

German movie theatres took notice of film's high performance as well. For theatres that keep showing the film and schedule go to >>>
02.05.2011
THE YUSUF TRILOGY SET CAME OUT IN SWITZERLAND

The Yusuf Trilogy, which consists of Yumurta, Süt and Bal films directed by Semih Kaplanoglu, hit the stores as dvd-set in Switzerland. The films are in original language with French and German subtitles both. The set also features a 60-minute interview with Semih Kaplanoglu and a pamphlet containing film reviews on the films in the trilogy by various Swedish film critics.

Golden Bear-winning film, BAL is available as a single DVD too. You can even get it in blu-ray.

For more information go to >>
22.04.2011
BAL GETS 2 AWARDS IN AMERICA

Semih Kaplanoglu's Golden Bear-winning film BAL has received Best Film and Best Cinematography awards in 13th RiverRun International Film Festival in America.

RiverRun Intertanional Film Festival, which took place between 8-17 April 2011 in Winston North Carolina, has hosted many films by world famous directors. While Bal was awarded Best Film and Best Cinematography Awards in the festival, Apichatpong Weerasethakul has received Best Director Award with "Uncle Boonmee Who Can Recall His Past Lives", Palme d'Or-winning film of 2010. Festival also awarded Armadillo by Janus Metz Best Documentary Award.

Following Bal's release in America, many positive reviews praising the film appeared in national papers including The New York Times.

For more information go to >>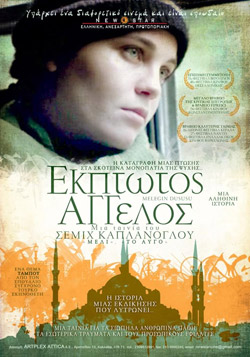 25.03.2011
ANGEL's FALL IS RELEASED IN GREECE

Semih Kaplanoglu's 2005 production "Angel's Fall" is again in theaters in Greece. Artiplex S.A., the film's Greece distributor noted that following well reception of Semih Kaplanoglu's Bal, audience wanted to watch his previous films, therefore they re-released "Angel's Fall", a Turkish-Greek co-production. You can watch "Angel's Fall", which opened on Thursday, March 31, at Aavora Movie Theater in Athens.

Produced in 2007, Egg was also re-released in January 27, 2011 in Greece. Following its screening in Aavora, Etoual and Ilion theaters in Athens, Egg is still in theaters in Thessalonica.
25.03.2011
BAL GOES TO AMERICA

After being released in almost every country in Europe, Semih Kaplanoglu's Golden Bear winning film BAL will be in theatres on 25th March in U.S.A. After opening the film in New York, Village East theatre the American distributor Olive Films will show the film in rest of the cities.

For more information go to >>
23.03.2011
BAL IS IN THEATERS IN PORTUGAL

After its successful release in Spain, Semih Kaplanoğlu's Golden Bear winning film BAL hits the theatres in neighbouring Portugal. BAL, which will be released in 24th March in Portugal, will be in theatres in Lisbon and Oporto first week. While major Portuguese papers such as Diário de Notícias, Jornal de Notícias, Público give wide coverage to the film, the Portuguese distributor Clap Filmes is happy with press attention.

For more information go to >>
05.02.2011
BAL's 2nd AWARD FROM POLAND

Semih Kaplanoglu's Golden Bear-winning film BAL has received the Golden Reel-Honorary Mention for the best foreign feature film distributed in Poland in 2010 awarded by Polish Filmmakers Association.

The Golden Reel Awards where Polish Filmmakers Association every year awards best films distributed in Poland are announced. While Lourdes by Jessica Hausner is awarded the best foreign film and Bal by Semih Kaplanoglu and Fish Tank by Andrea Arnold received the Honorary Mention.

Bal was also awarded Ale Kino People's Choice Award earlier in November, 2010 in Poland.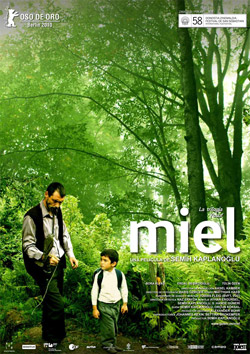 01.02.2011
BAL IS IN SPAIN

Following its successful releases in West Europe Semih Kaplanoglu's Golden Bear-winning film BAL is in the Mediterranean. In Spain BAL hit the theatres on January 28. The film, which is showing in 15 cities across Spain including Madrid, Barcelona, Valencia, Seville, San Sebastian and Bilbao, meets the audience in Spanish as well as in Basque language. The Spanish distributor Golem Distribucion is also planning to release Yumurta and Süt, the other two films in the Yusuf Trilogy on February 4.

For more information go to >>>
11.01.2009
'THE ENCOUNTERS' IS OUT
The Encounters is a collection of articles by Semih Kaplanoglu published between 1996-2000 in his newspaper column bearing the same name. However, the articles in The Encounters go beyond a column's framework or capacity and crush into the gates of literature. They are too unique to be labeled or categorized under any genre and lend a fresh breath to the literature in Turkish.

Published by Iletişim Publishing House, the book offers an encounter with Semih Kaplanoglu known for his success in cinema by the readers.

For more information go to >>>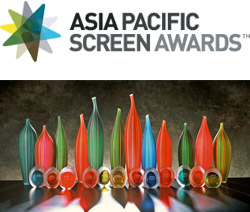 03.12.2010
UNESCO AWARD GOES TO BAL AT APSA

The winners of Asia Pacific Screen Awards are announced in the ceremony that took place in 2nd December in Brisbane Australia.

Bal (Honey) by Semih Kaplanoğlu, received the UNESCO Award, determined by the International Jury and awarded for outstanding contribution to the promotion and preservation of cultural diversity through film.
01.12.2010
BAL AWARDED IN POLAND

BAL by Semih Kaplanoğlu was very highly regarded by the public in Poland and won the Audience Award at Ale Kino Festival.

The 6th edition of the World Cinema Ale Kino! festival took place from 18th to 28th November in cinemas in Warsaw, Cracow, Poznań and Gdańsk. The program for the event consisted of 20 titles from Asia, Latin America and Africa and from amongst them BAL was the most favored one.

Mañana will distribute BAL by Semih Kaplanoğlu. The film is released in Poland on 26th November.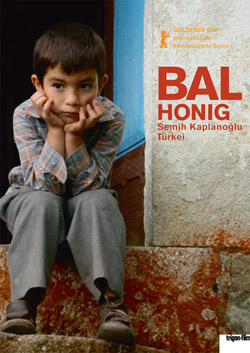 15.11.2010
BAL HITS THE THEATRES IN SWITZERLAND

Bal, Turkey's entry for Foreign Language Oscar is released in Switzerland on 18th November. Following its release in Baltic states BAL goes on touring northern Europe with Switzerland. The film will be on 16 cities across the country including Zurich and Basel. The Swiss distributor Trigon Film has already started giving out promotional honey in tiny jars to the passers by the movie theatres.

For more information go to >>>
04.11.2010
BAL NOMINATED FOR 3 AWARDS AT EFA

23rd European Film Awards nominees are officially announced at the 7th Seville European Film Festival in Spain. Top five films in each category are selected based on votes from 2,300 member of European Film Academy chaired by Wim Wenders. BAL is among the top 5 films in categories of Best European Film, Best European Director and Best European Cinematographer.

The awards will be presented to the winners in the ceremony to be held in Talinn, Estonia on 4th December.

For more information go to >>>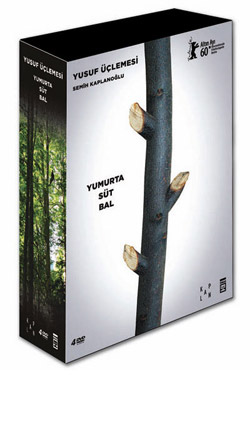 04.11.2010
LONG-AWAITED DVD SET COMES OUT

The Yusuf Trilogy that Semih Kaplanoglu made in five years, meets the art lovers in an exclusive package including all movies, bonus dvd and a book of interview with Kaplanoglu.

For the first time in this set, "Honey" the last installment in the trilogy, which was awarded Golden Bear in Berlin Film Festival, is presented to the cinéphile along with "Egg" and "Milk".

The bonus dvd reveals behind the scene of the trilogy with making-of featurettes of all three movies and interviews with the crew.

"Yusuf's Dream", the book of interview with Semih Kaplanoglu conducted by film critic Uygar Şirin leads the reader to the world of the director. Kaplanoglu tells the story of his life from his childhood up until today while giving out clues about his view on cinema, his film making process and how he shoots films.

The Yusuf Trilogy set is a reference work that people will watch and read over and over again.

For more information go to >>>
04.11.2010
BAL IN GREECE

"Bal" the Oscar contender of Turkey is going into the second week of its release in Greece as movie is very well received.

The film distributed by Ama Films, hails the movie goers in two theaters in Athens and one in Thessalonica

For more information go to >>>
04.11.2010
BAL RELEASED IN NORWAY

BAL hits the theaters in six cities across Norway on 29th October. The film meets the movie lovers in Oslo, Bergen, Trondheim, Stavanger, Lillehammer and Ski with a total of seven prints.

For more information go to >>>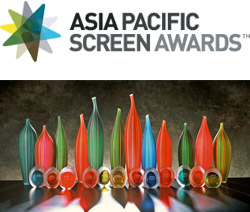 19.10.2010
BAL NOMINATED FOR 3 AWARDS AT APSA

The nominees for the 4th Asia Pacific Screen Awards that will take place this year, are announced. BAL is nominated at three categories namely; Best Feature Film, Achievement in Directing, and Achievement in Cinematography.

Nicked as Asian Oscars, APSA will go to the winners in the awards ceremony that will take place in Brisbane, Australia on 2nd Nov, 2010.

For more information go to >>>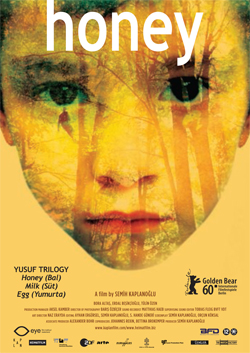 14.10.2010
BAL HITS THE THEATERS IN NETHERLANDS

Bal, the Oscar contender of Turkey is released in Netherlands in the following cities; Amsterdam, Rotterdam, Utrecht and Eindhoven. Following its German and French and Swedish release, Bal goes on touring Europe with Netherlands where it will be distributed by Eye Film Institute..

For more information go to >>>
22.09.2010
BAL IN THEATERS IN SWEDEN

Turkey's Oscar contender BAL is released on 1st October 2010 in Sweden. Following its German and French release, Bal goes on touring Europe with Sweden where it shows in eight cities namely, Stockholm, Gothenburg, Malmö, Lund, Helsingborg, Båstad, Örebro and Västerås. In conjunction with Bal's Swedish release by Nonstop Entertainment, Svanska Filminstitutet Cinemateket screens Egg and Milk, the first two films in the Yusuf Trilogy.

For the list of movie theaters >>>

For more information >>>
22.09.2010
GOLDEN BOLL GOES TO BAL

BAL, directed by Semih Kaplanoğlu is granted the Best Film Award and SİYAD Best Film Award in 17th International Adana Golden Boll Film Festival.

The awards went to their winners in the award ceremony held in Adana Central Amphitheater on 25th September 2010.

The national feature film jury of actor Fikret Kuşkan, actor Görkem Yeltan, DOP Erdal Kahraman, writer Buket Uzuner, film critic Erdal Aktuğ and composer Selim Atakan, headed by writer-director Işıl Özgentürk selected BAL the best film from among ten contestant Turkish films.

SİYAD, Film Critics Award also went to BAL as Semih Kaplanoğlu received the award from the honorary chairman Atilla Dorsay.

Işıl Özgentürk, the head of jury announced Bora Altaş won Jury Special Award noting that, "the festival does not give award for 'Best child actor', yet we could not help appreciating Bora Altaş's outstanding performance in BAL".
22.09.2010
BAL IN THEATERS IN FRANCE

Bal, Turkey's official submission for Oscar nominations is released in France. Distributer by Bodega Films, the film will meet the French audience in 5 movie theatres in Paris and in 33 theaters in all over France.

The major French newspaper Le Monde featured BAL on its cover in today's edition.

For more information please go to
>>> www.miel-lefilm.com

For the list of movie theaters BAL is showing >>>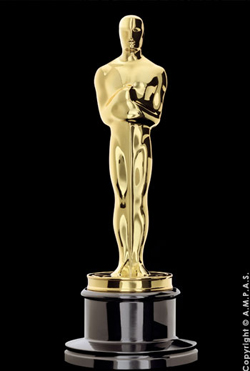 19.09.2010
ON THE ROAD TO THE OSCARS

BAL, the Golden Bear winner of 60th Berlin Film Festival is selected for submission for Foreign Language Oscar from Turkey.

The Oscar winners will be announced in the 83th Academy Awards ceremony, which will be held in Kodak Theatre in March 2011.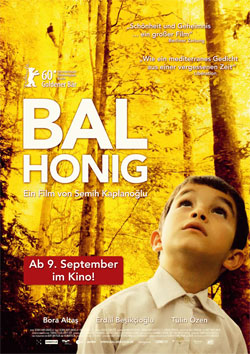 06.09.2010
BAL HITS THE THEATERS IN GERMANY ON SEPTEMBER 9

BAL, Golden Bear winner of 60th Berlinale will be released in Germany on Thursday 9th of September. Piffl Medien, the German distributor of BAL announced that the film is going to be screened at 29 theaters including Delphi and Kino International with 750 and 550 seating capacity respectively, the largest ones in Berlin.

Die Zeit, daily paper dated 19th August ran a big story on BAL and Çamlıhemşin. Meanwhile Berlin TIP Magazine devoted almost its entire film section to BAL. BAL is at the top of the star chart published according to the votes of eminent film critics in Germany.

For more information in German go to : http://www.bal-der-film.de/news.php
12.07.2010
HONEY WITH "GOLDEN BEAR" BRINGS TOURISTS TO RIZE

According to Mr Ismail Hocaoğlu, The Manager of Culture and Tourism of Rize, with receipt of "Golden Bear" award, Honey, has drawn German tourists attention to the area.

Hocaoğlu told that in 2009, 50 thousand out of 450 thousand tourists who visited Rize were visitors from abroad.

"This year there is a change and progress in the number of tourists as well as their nationalities. This progress is especially among European and Arab tourists. This is also the result of our publicity in International trade fairs. But especially the screening of films shot in Ayder, in Europe, has a great effect. Honey, which was awarded with "Golden Bear" in Berlinale, has drawn the attention of German tourists to the area."

Hocaoğlu mentioned the tourism season lasts for 5-6 months in Rize "Ayder is now well-known abroad. Tourists choose this destination because of its diversity in alternative activities. Rafting, trekking, Kackar Mountains are hotspots for tourists. Rize is meeting its true value."

Hocaoğlu said film business and mountaineering has made great contribution to tourism. After the improvement in winter sports, the area will be much more ahead.

As European and Arab tourists stay in the area, it also has contribution in the development of economical status of Rize.
01.07.2010
BAL SCREENING IN SARAJEVO FILM FESTIVAL

BAL, the winner of this year's Golden Bear, will be having Open Air Gala Screening in 16th Sarajevo Film Festival, which takes place in 23rd to 31st July 2010.

Director Semih Kaplanoğlu will be presenting the film to the audience in the festival's most impressive venue.

Please click here for details >>>
30.06.2010
KAPLANOĞLU JURY MEMBER IN GOLDEN APRICOT

Semih Kaplanoğlu will be attending 7th Golden Apricot Yerevan International Film Festival as a jury member of the International Competition section.

The festival takes place in Yerevan, Armenia between July 11th and 18th.
06.04.2010
BAL WILL BE IN THEATERS ON 9th APRIL

BAL (Honey), the last film in The Yusuf Trilogy by Semih Kaplanoğlu, which was completed in 4 years, is going to be released in theaters in Turkey on April 9, 2010.

The Golden Bear awarded to BAL is regarded the third most significant international award granted to Turkish cinema following "Susuz Yaz" by Metin Erksan (1964) and "Yol" by Yilmaz Güney (1982).
21.02.2010
GOLDEN BEAR GOES TO BAL IN BERLINALE

BAL, last film of The Yusuf trilogy by Semih Kaplanoğlu which took 4 years to complete is awarded Golden Bear in 60. Berlin Film Festival. BAL was selected as the best film by an international jury of Francesca Comencini, Nuruddin Farah, Cornelia Froboess, José Maria Morales, Yu Nan ve Renée Zellweger headed by Werner Herzog from among the films by famous directors such as Roman Polanski, Thomas Vinterberg and Michael Winterbottom. On 20th February, the golden bear was presented to Semih Kaplanoğlu by Werner Herzog and the festival director Dieter Kosslick in the award ceremony that took place in Berlinale Palast before thousand and six hundred guests.

Another award Semih Kaplanoğlu has received for BAL was the Ecumenical Prize awarded by the international organizations of Protestan and Catholic Churches. This prize is awarded to the director who has suceeded in portraying actions or human experiences that are in keeping with the Gospels or in sensitizing viewers to spiritual, human or social values, by a jury of six leading clerical figures from different countries.
03.02.2010
BAL HAVING WORLD PREMIERE ON 16TH FEBRUARY

It was announced that the last film of Semih Kaplanoglu's Yusuf Trilogy, BAL, will be having World Premiere in 60th Berlinale Official Competition in the press release dated 15th December.

The premiere screening will be on 16th February at 16:30 in Berlinale Palast with attendance of the director and the actors.
15.12.2009
BAL - HONEY IN 60th BERLINALE OFFICIAL COMPETITION
BAL - HONEY, the third and last film in Yusuf Trilogy by Semih Kaplanoğlu is selected for the official competition at 60th Berlin Film Festival.

The film takes us to Yusuf's childhood, the first stage in his life where we meet his father Yakup, a black-hive honey gatherer.

The main characters are played by Bora Altas, a seven-year-old who made his acting debut in this film, Erdal Besikcioglu and Tülin Özen.

For the press release click here >>>
14.12.2009
MILK MEETS GERMAN AUDIENCE ON 14 JANUARY 2010
Semih Kaplanoğlu's "MILK" will be rleased on 14th January 2010 in Germany with 14 prints. Mitos Film is handling the distribution of the film in Germany.
The film will be released in Berlin, Köln, Hannover, Heidelberg, Marburg, Nürnberg, Saarbrücken, Seelfeld and Pforzheim on 14th January; In Regensburg on 26th January and in Frankfurt' in February 2010.

For more information and theater information, please click here >>>
02.12.2009
KAPLANOĞLU FILMS MEET CNBC-E AUDIENCE
Semih Kaplanoğlu's films "Angel's Fall", "Egg" and "Milk", winner of many National and International awards, will meet cnbc-e audience in December.

The screening dates for the films will be as follows;

Angel's Fall 16.12.2009
Egg 23.12.2009
Milk 30.12.2009
13.08.2009
THE LATEST BY SEMİH KAPLANOĞLU - HONEY
The principal photography of BAL - HONEY, last film of "Yusuf Trilogy" by Semih Kaplanoğlu has taken start in Rize, Çamlıhemşin. Kaplan Film and Heimatfilm's co-production, BAL - HONEY is realized with the support of Eurimages, Filmstiftung NRW and ZDF Arte.

Narrating the story of black-hive honey keeper father and son, the film traces back to the childhood of Yusuf, the first stage of his life.
26.06.2009
"MILK" DVD ON SALE BY KANAL D HOME VIDEO
"MILK" DVD ON SALE BY KANAL D HOME VIDEO
"MILK" is in on sale with 2 disc Special Version. English, French and German subtitles are available in the DVD. Making of, Milk on TV, interview with Melih Selçuk, interview with the French crew, World Premiere at Venice Film Festival, Motor accident, deleted scenes, trailer and photograph gallery are included in the DVD as extra features.
06.2009
GRANADA AWARDED MILK
The 3rd Cines Del Sur film festival which took place between 13 - 20 June in Granada of Spain has ended.

The awards were given to the winners during the closing ceremony on Saturday evening, 20th June.

MILK, having screened in International competition section, received a wdie interest from the festival audience and the Spanish press.

The International jury with Arturo Ripstein as the president awarded Melih Selçuk "Best Actor".

In the festival, with her role in the film "Songs from the southern seas" by Murat Sarulu from Kazakhstan, İrina Agejkina received the "Best Actress" award.
>>>
18.05.2009
"EGG: JOURNEY TO THE SOUL" HIT THE BOOKSTORES
Two semanticists; Prof. Seçil Büker and Ass.Prof. Hasan Akbulut authered a joint book on 'Egg' written and directed by Semih Kaplanoğlu. Published by Dipnot publishing house, the book contains a semantic/psychoanalytic evaluation of the film 'Egg' scene by scene. Substantiated by the authors' deep knowledge and an extensive bibliography, it explores the cultural, traditional, religious and psychological background of the film with a thorough reading.
03.2009
SÜT IN POLISH THEATERS ON 3RD APRIL
Poland will release SÜT on October 3rd, 2009. The film, represented by The Match Factory, will be released by the Polish Distribution company Manana.
>>>
03.2009
SÜT IN NATIONAL AND INTERNATIONAL COMPETITION IN İSTANBUL
The 28th International Istanbul Film Festival has revealed its program in the past days.
The International Competition Section has included SÜT to their program, where last year EGG was awarded "Golden Tulip".
The president of the jury for the International Competition Section this year is Serbian director Goran Paskaljevic.
Semih Kaplanoglu's second film of the "Yusuf Trilogy" SÜT will also be one of the 14 films which will be screened within the National Competition program.
Here below is the screening schedule for the film;
Emek 13 April Mon. 16.00
http://www.iksv.org/film/program.php?Content=Film&SID=2&FID=7
07.03.2009
MILK TURKISH PRESS REVIEWS
Milk is released in Turkey on 2nd January 2009. Here you will find some of the feedback from the Turkish press and some parts of what the Turkish film critics wrote for the film.
>>>
27.01.2009
MILK NOMINATED IN FAJR, KAPLANOGLU IN THE JURY OF ASIAN FILMS
Milk is nominated for best film in Fajr film festival where Egg has received 2 awards last year.
The winner out of 14 films from China, South Korea, Poland, Mexico, the USA, Greece and Bosnia will be announced on 6th February.
Festival organizers have invited Kaplanoglu who was awarded Best Director last year, as the the jury of "Competition of the Asian Cinema". The jury will decide on Best Film, Best Director, Best Screenplay and Special Prize for Convergency in Asia.
>>>
27.01.2009
MILK in 32nd GÖTEBORG FILM FESTIVAL
MILK by Semih Kaplanoglu will be screened in 32. International Göteborg Film Festival this year.
Festival will have screening of acclaimed Turkish films in "Turkey-Country in Focus" section. So Swiss audience will have the chance to watch 8 feature films and 2 documentaries from Turkey between 23 Jan-2 Feb.
The schedule of MILK is as follows;
30.01 Friday 12.30 Pustervik
31.01 Saturday 17.30 Stadsbiblioteket
01.02 Sunday 12.30 Stadsbiblioteket
>>>
To download English and Italian press book, please click here >>>
17.11.2008
"EURIMAGES ITALIA" AWARD GOES TO EGG
Semih Kaplanoğlu's film "Egg" has received another International award on 15th November in Rome, Italy.

Haivng Nejat İşler and Saadet Isil Aksoy as main actors, has received the "Eurimages Italia" award in the 14th Medfilm Festival. The festival hosted Turkey and Turkish films as "Guest of Honour".

"Egg", has received its 30th award with this.

The screening of "Milk", the second film of the "Yusuf Trilogy" was also well attended.
30.07.2008
"SÜT" IN COMPETITION IN 65th VENICE INTERNATIONAL FILM FESTIVAL

The second film of Semih Kaplanoglu's Yusuf Trilogy "SÜT" selected for Competition section of 65
th
Venice International Film Festival.
The film is a co-production between Turkey - France and Germany, realized by the support from Turkish Ministry of Culture, CNC, World Cinema Fund, Filmstiftung NRW and Tire Municipality.
"SÜT" features Melih Selçuk and Başak Köklükaya in the leading roles.
The film, written by Semih Kaplanoğlu and Orçun Köksal has been introduced to film professionals by the Cannes Atelier, one of the official sections of the Cannes festival last year.
Wim Wenders is leading the Official Competition jury members; Russian screenwriter Juriy Arabov, Italian actress Valeria Golino, Scottish artist Douglas Gordon, American screenwriter and producer John Landis, Argentinean director Lucrecia Martel and director from Hong Kong, Johnnie To. The last film from Turkey which was in the competition section in Venice International Film Festival was "Gizli Yüz" by Ömer Kavur in 1991. In 1987, Kavur received Fipresci Award in Venice with his film "Anayurt Oteli".
21.04.2008
YUMURTA "BEST FILM" IN RAVENNA
In the second edition of Ravenna Mosaico International Film Festival which was between 14 - 19 April, the jury awarded "EGG" with the "Best Film" award.
In the "European Film Competition" section, there were 9 films in total with, Pascale Ferran's "Lady Chatterley", "This is England" from Shane Meadows and Ulrich Seidl's "Import-Export".

21.04.2008
GOLDEN TULIP AND RADİKAL AUDIENCE AWARD GOES TO "EGG"
The 27th International Istanbul Film Festival has ended with the award ceremony on Saturday 19th April. The International Golden Tulip Jury, with Michael Ballhaus as president and Joan Dupont, Selim Eyüboğlu, Bent Hamer, Pawel Pawlikowski and Kirski Tykkylainen as members, awarded "EGG" with Golden Tulip.
The President of the Jury Michael Ballhaus presented the award and Fatma Girik introduced the award to the Director Semih Kaplanoglu.


21.04.2008
"EGG" IN MARKET BY KANAL D HOME VIDEO
"EGG" will be in market by Kanal D Home Video in April. The film will be out on sale as 2 Disk Special Version and English, French and German subtitles are available in the DVD.
The Bonus Disk contains interview with the actors Nejat Isler and Saadet Isil Aksoy, interviews with members of the crew and making of, deleted scenes, trailer and photo gallery. Moreover, the World premiere Gala and Press Conference which took place in 39th Director's Fortnight is available. The local casting in Tire and the crew looking for a suitable well for the Well scene can also be found in the Bonus Disk as extra features.

10.03.2008
NURNBERG SAID "EGG"
Semih Kaplanoğlu's film "EGG" has returned with two awards from Nurnberg's 13th Filmfestival Türkei/Deutschland.
In this year's competition section, which aims to build a cultural bridge between two countries, there were 4 films from Germany and 5 films from Turkey.
The international jury members Güven Kıraç, Cem Özer, Hale Soygazi, Holger Stern and Dito Tsintsadze awarded "EGG" with
"Best Film"
prize and the leading actor Nejat İşler shared the
"Best Actor"
prize with Denis Moschitto, the leading actor in "Chiko" directed by Özgür Yıldırım.
>>>
EGG WILL BE RELEASED IN FRANCE
EGG, having it's World Premiere in 60th Cannes Film Festival, Quinzaine des Realisateurs Section, will meet the French audience in April. The film will be opening in 23 April 2008 by Les Acacias Distribution.
>>>
ANOTHER AWARD FOR EGG FROM PORTUGAL
EGG was in competition in Estoril European Film Festival which took place in Portugal between 8-17 November. EGG is awarded with Best 2nd Film in Estoril. The international jury of the festival was composed of Miquel Barcelo, Stéphane Braunschweig, Don DeLillo, Asia Argento and Ruy Duarte De Carvalho.
>>>
18/12/2006
ANGEL HAS ROSE IN KERALA
"Angel's Fall" by Semih Kaplanoğlu has received Best Film award from the 31th international film festival it was involved.
In one of the most important festivals of India, 11th Kerala International Film Festival, "Meleğin Düşüşü" and "Forever Flows" shared the best film award.

The Jury of Kerla Film Festival consisting of Elia Suleiman (filmmaker), Darrell James Roodt (filmmaker), Julie Christie (actress), Revathy (actress) has decided to give the award for best film to two films, for their ability to turn the marginal moments of everyday life into a poetic dimension by metamorphising time and space into aesthetic contemplation. They indicated that both films are a search for identity in a world where globalization is crushing us, not only on the screen but off-screen, too.
>>>
11/12/2006
SEMİH KAPLANOĞLU WILL HAVE A CONVERSATION IN MITHAT ALAM FILM CENTER
"This month Semih Kaplanoğlu Retrospective is in the program of Bosphorus University MAFC. On 13th December, Wednesday, the first feature film of Semih Kaplanoğlu, "Away From Home" will be screened. On 14th December Thursday at "Angel's Fall" will be screened and a conversation with Semih Kaplanoğlu will ensue the screening.
>>>
26/11/2006
"MILK" WAS IN THESSALONIKI CROSSROADS COPRODUCTION FORUM
"MILK" second film of the trilogy, was in Thessaloniki between 23 - 25 November. Semih Kaplanoğlu was invited to second Crossroads Co-production Forum in the 47th Thessaloniki Film Festival. "MILK" came together with several European producer and distribution.
>>>

22/11/2006
SHOOTINGS OF "EGG" HAS COMPLETED
The shooting of "EGG", the first film of the trilogy started and completed in November 2006.
11/10/2006
EURIMAGES SUPPORT FOR "EGG"
"EGG" was entitled for 150.000 Euros of Eurimages support in the 102nd meeting held between 8/10/2006 - 10/10/2006.
>>>

17/09/2006
"ANGEL'S FALL"
"Angel's Fall" will be in market in October by Kanal D Home Video. English, French and German subtitles will be available in the DVD. Interview with the director and making of, deleted scenes, trailer and photograph gallery are included in the DVD as extra features.
17/09/2006
MINISTRY of CULTURE AND TOURISM SUPPORT FOR "EGG"...
Upon the evaluation of the Committee of Cinema Support, T.R. Ministry of Culture and Tourism, on July 1st -3rd 2006, the project of "Egg" by Semih Kaplanoğlu was entitled for production support of 270.000 TRL.
>>>

17/09/2006
"MILK" HAS BEEN ENTITLED FOR SUPPORT OF 50.000 EUR FROM BERLINALE WORLD CINEMA FUND...
"MILK", one of the trilogy of "HONEY - MILK - EGG" by Semih Kaplanoğlu, has been entitled for production support of 50.000 EUR from World Cinema Fund which is associated with Berlinale. World Cinema Fund jury has declared that 5 project has been provided support among 80 applicant project.
>>>
17/09/2006
"EGG" WAS IN PARIS PROJECT...
"Egg" the first film of the "Yusuf Trilogy", was in Paris between July 1st - 5th in Paris. Kaplanoğlu was invited to "Paris Project" meetings which bring the leading producers, distributors and television channels together. The selection of 10 projects for "Paris Project" is a result of a one year exploration of films from all around the world.
>>>
18/12/2006
MELEK HİNDİSTAN'DA YÜKSELDİ
Semih Kaplanoğlu'nun yönettiği "Meleğin Düşüşü" katıldığı 31'inci uluslararası festivalden de ödülle döndü.
Hindistan'ın en önemli uluslararası festivallerinden 11. Kerala Film Festivali'nde En İyi Film ödülünü "Meleğin Düşüşü" ile "Forever Flows" filmleri paylaştı.

Kerala Film Festivali'nin Elia Suleiman (yönetmen), Darrell James Roodt (yönetmen), Julie Christie (oyuncu) ve Revathy (oyuncu) gibi çok önemli isimlerden oluşan jurisi zaman ve mekanı başkalaştırarak estetik bir tavırla günlük hayatın kıyısında kalmış anları şiirsel bir boyuta dönüştürdükleri ve ticari sinemaya karşı yenilikçi bir alternatif sundukları; aynı zamanda , hem perdeye taşınan görüntülerle hem de dışarıda bıraktıklarıyla, küreselleşmenin bizi ezdiği bir dünyada kimlik arayışını anlattıkları için ödüllendirmiştir.
>>>
11/12/2006
MİTHAT ALAM FİLM MERKEZİ'NDE SEMİH KAPLANOĞLU SÖYLEŞİSİ
Boğaziçi Üniversitesi MAFM programında bu ay Semih Kaplanoğlu retrospektifi var. 13 Aralık Çarşamba Kaplanoğlu'nun ilk uzun metraj filmi "Herkes Kendi Evinde"nin gösterimi yapılacak, 14 Aralık Perşembe "Meleğin Düşüşü"nün gösteriminin ardından yönetmenle bir söyleşi gerçekleştirilecek.
>>>